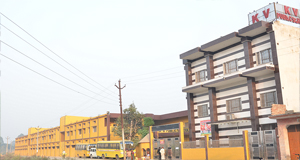 K. V. Public School prepares students for the Central Board of Secondary Education. The beautiful building with its ample grounds is equipped with naturally well-lit and ventilated classrooms provide an ideal setting for academic rigour and ...
We at K. V. Public School, endeavour to provide a curriculum with a difference. One that balances excellence in learning with an all-round cultural, physical, mental and moral development. Our attempt is to make the most formative and beautiful years of our students' lives a joy forever.

At this unique institution, we hone the academic skills, fine-tune the aesthetic senses and work towards building a holistic culture that values the individuality of each pupil, helping them realize their innate potential.